Contact and directions
Contact Dr. Montague
Kristen M. Montague, PsyD, LMFT
619 N. 35th St, #207
Seattle, WA 98103
Phone: 425-224-6051
Email: kristenmontaguepsyd@gmail.com
Directions to office
619 N. 35th St. #207
Seattle, WA 98103
Dr. Montague's office is located in the Fremont Building annex, in the Fremont neighborhood of Seattle, on the block between Jai Thai and the famous Fremont rocket. The entrance is just to the right of Portage Bay Goods. Once you enter the building take the first left down the stairs to the second floor. The waiting area is at the end of the hall.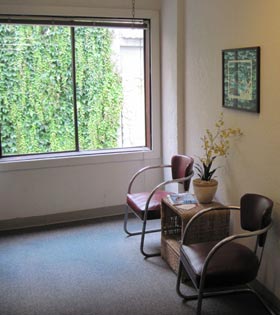 Parking and Public Transportation
Free 1.5 hour parking can be found in the garage located under PCC. The entrance is off Evanston Avenue North. On exiting the parking garage take the stairs to your right up to Fremont Avenue and turn to your left to find our doorway.
Free two-hour parking is also available on N. 34th and N. 35th Streets north of Evanston Avenue, but parking in our block is now pay-only. If you prefer to take the bus, we are served by the number 5, 26, 28, 31, 32 and 40 bus lines, and 62 stops just across the Fremont Bridge. Please check the Metro Transit website for bus schedules.